Our Team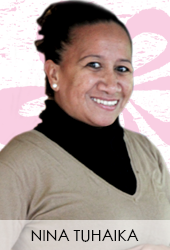 Nina Rachel Tuhaika, Coordinator
Nina Tuhaika joined the Solomon Islands Women in Business (SIWIBA) in August, 2014, as the Coordinator (formerly known as the Chief Executive Officer - CEO).
Prior to joining SIWIBA, Ms. Tuhaika was employed by the Australian Broadcasting Corporation (ABC) International Development project, Solomon Islands Media Assistance Scheme (SOLMAS) based in Honiara since 2010 as Program Officer. She was later placed in charge of the Flexible Support Fund (FSP) that was a small funding component and helped secure more than 10 projects for the media groups in the Solomons over the years 2010 - 2012 including upgraded equipment for media newsrooms around Honiara. Ms. Tuhaika was later promoted as Office Manager prior to the end of the program in December 2013.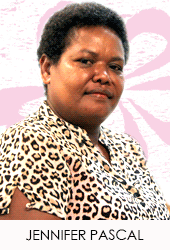 Jennifer Pascal, Finance Office
Jennifer Pascal graduated with a Certificate in Secretarial Studies from Solomon Islands College of Higher Education now SINU.
She was employed with the Development Bank of Solomon Islands in November 1998 to 2009 as a Bank Secretary in the Lending Department.
In 2010, Mrs. Pascal did her Diploma in Business Finance and graduated in 2011, after which she went back into field of work and was employed as an Administrator for Guadalcanal Women Resource Centre funded by National Council Women for six months.
In May 2013, Mrs. Pascal joined the SIWIBA secretariat as a Finance/Administration Officer on three months contract. Jennifer later moved to the Church of Melanesia and left SIWIBA as the Finance Officer for Diocese of Guadalcanal.
Though leaving SIWIBA, Mrs. Pascal still had the passion to work for a women organisation and she re-joined SIWIBA in July 2014 as the Finance Officer. She is responsible for serving the organisation in its accounts and financial matters and other duties may assigned.
Working in a women organisation is challenging but Jennifer finds it very interesting to get to know each other.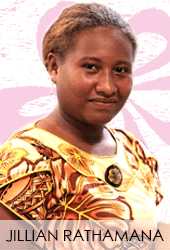 Jillian Rathamana, Communications & Administration
Jillian Rathamana graduated with a bachelor degree with majors in Industrial Relation and Management & Public Administration in August 2012 from the University of the South Pacific, Fiji.
Her first occupation was with Isles Media Enterprise 2012 as the Human Resource Officer. Jillian left Isles Media in early 2014.
Jillian joined SIWIBA in March 2014 as the Program Officer until her contract end in March 2015. She took up another contract with SIWIBA as Administration and Communications Officer.
"It's good to be part and parcel of SIWIBA, and assisting women who wish to develop economically which is challenging yet fun."
"To me, SIWIBA sets a good example for building women in Solomon Islands."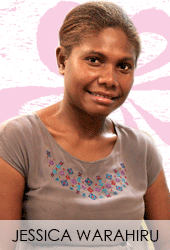 Jessica Warahiru, Training Officer
Jessica Warahiru graduated with Diploma Certificate in Business Banking from Solomon Islands National University (SINU) on the 6th of December, 2013. She is looking forward to Graduate with a Diploma in Business Finance at the same University.
In February 2015, Ms. Warahiru worked for Business Connecting as a Logistic Officer for three months, after which she was posted for the Position as a Finance/Administrator Officer at Honiara SSEC Central Church.
In June 2015, Ms. Warahiru resigned form Honiara SSEC Central Church and joined Solomon Islands Women in Business Association (SIWIBA) as a Data/Administrator Officer/Web Administrator. She was responsible to assist the Secretariat to maintain reliable database for the organization and provide support to enable a friendly, professional and efficient office environment. Ms. Warahiru was later re-appointed as SIWIBA Training Officer and is in charge of the training program and to ensure members are trained in their needs areas as specified in application forms.