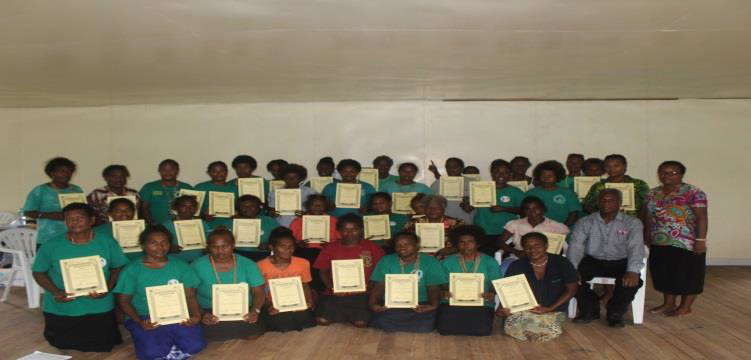 SIWIBA, SYOB Training for Marau Paranikeni Sanivaivine Group Successfully Completed Last Week
The training was facilitated by SIWIBA and delivered by the Solomon Islands Small Business Enterprises (SISBEC) Trainer. The training offered was Start Your Own Business (SYOB), a training SIWIBA normally offered to kick start trainings for its members. This particular training covers a wide range of topics eg basic booking, sales and marketing, pricing and others. It went on from Tuesday 20 to Thursday 22 November 2018. A total of thirty nine (39) members attended.
Speaking during the closing, SIWIBA Training Officer Mrs. Rebecca Gilbert acknowledges the members for their active participation during the three days training. She also acknowledge Solomon Islands Small Business Enterprises (SYSBEC) for conducting the Start Your Own Business (SYOB) training. Lastly Mrs. Gilbert acknowledged the Australia High Commission in Honiara for its funding to SIWIBA that makes it possible for this training to be taken down to women doing business in Marau.
Guest speaker Mr. Stanley Tova, the Administration Extension Officer Marau, Guadalcanal Province also acknowledged SIWIBA and Solomon Islands Small Business Enterprises for the training provided for the women. He further encourages the women who participated in the training to make use of the training by applying and putting into practice what they learnt, into their small businesses.
Speaking on behalf of the Marau Paranikeni Sanivaivine Group, the Chairlady Mrs. Noela Siriki thanked SIWIBA for taking the training right down to them. She also thanked the SISBEC Trainer Mr. Ghona for delivering the three day training to them. Mrs. Siriki echoed the group's appreciation for the great opportunity given to them and again appealed to SIWIBA to conduct more training for her members and promised to continue with the cordial relationship built with SIWIBA as an affliated member.
SIWIBA would like to acknowledge the Australian High Commission in Honiara for the continuous support towards SIWIBA and the women of Solomon Islands that made it possible for SIWIBA to take training right down to the rural areas. Also a special thanks to Small Business Enterprises for conducting the training and for the Marau affiliate group for availing themselves to attend the training.