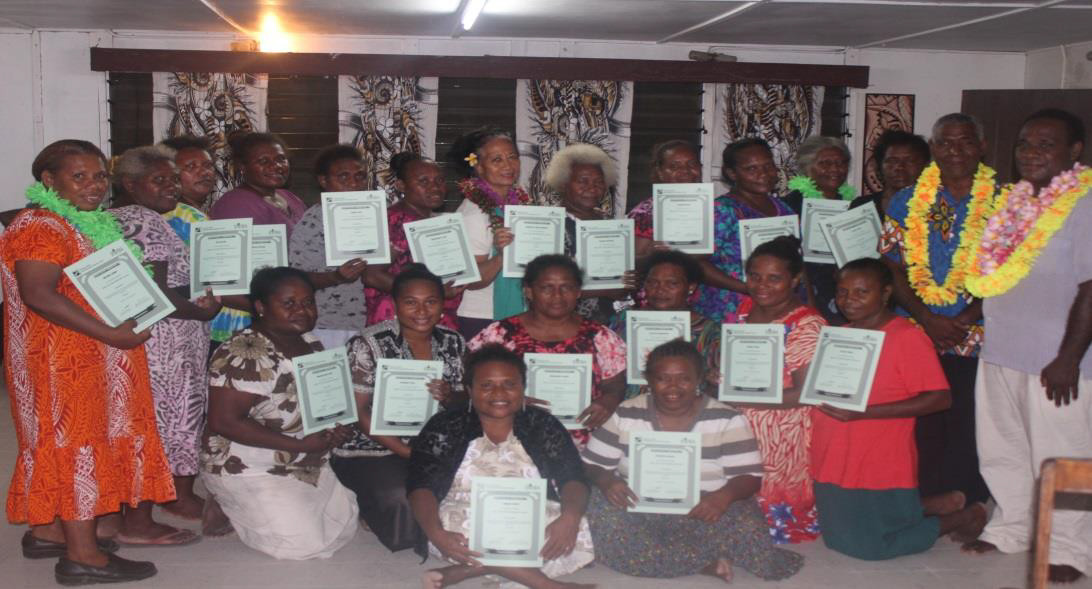 SIWIBA Successfully Completed a Three Day Training in Tulagi for its Members
SIWIBA successfully completed three day SYOB (Start Your Own Business) training for its affiliated group, CIPWIB in the central Islands Province, last week. The training was facilitated by SIWIBA and the Trainer from SISBEC (Solomon Islands Small Business Enterprises) from Wednesday 14th to Friday 16th November 2018.
A total of twenty three members from the central Islands Province attended the training and they were very pleased to have the training at Tulagi.
Speaking during the closing of the training, Central Islands Women in Business Association (CIWIBA) Chairlady Mrs. Annette Dennis acknowledges SIWIBA, for making it possible for the training to take place, and the Trainer for conducting the training in a simple manner that helps the women grasp and understood the topics discussed. Also a lot of gratitude to the SIWIBA Funder, Australian High Commission Office in Honiara for providing the much needed funding for the SIWIBA members in the rural areas.
Central Islands Provincial Speaker also acknowledges the Chairlady for taking the lead in helping the Central Islands Province women. Also acknowledges SIWIBA, for reaching out to the provinces and for helping the rural women access such training that normally takes place only in Honiara. He further requested if SIWIBA could go as far as North and South of Central Islands Province.
Speaking on behalf of SIWIBA during the certificate presentation, Ms Jessica Warahiru SIWIBA Program Officer, acknowledged the chairlady and the members of CIPWIBA for their participation during this three days training and the hospitality provided to her and the Trainer. She also acknowledges the wonderful working relationship SIWIBA has with SISBEC and thanked the Trainer and the Manager for such cordial collaboration.
The SYOB training was closed with twenty three members awarded with certificates. SIWIBA continue to acknowledge the continuous support the Australian Government through its High Commission Office here in Honiara, for its support to the Solomon Islands women through its funding to SIWIBA over the last five years. SIWIBA will forever grateful to the tax payers of Australia for recognizing the plight of women here in Solomon Islands.
Training to the provinces is proudly sponsored by the Australian High Commission Office, Honiara, Solomon Islands.